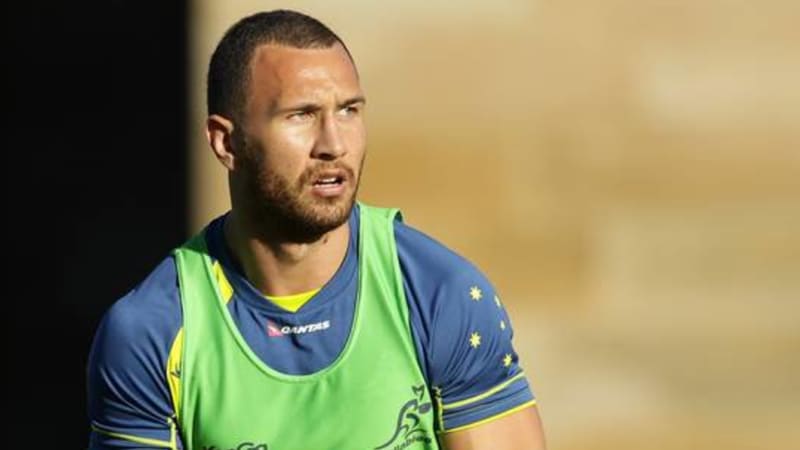 "What has been so interesting with me with Quade is his desire to work hard over the coming months, which is what we expect from it," said Wessels.
"My heart is a talent so it deserves to play at the top level of the game, but through a series of events it has ended up missing on that. It's some of it and some of it has on the environments. .
"The only person who wants to change that now is he. If he is in a mental space to come in, work hard and give the effort, then he can certainly be anything and certainly go to the World Cup.
"It would be great for him to do that, but it's very far from where we are now."
The 30-year-olds will have gone on to claim the starting role of No. 10 for Melbourne, but at the end of the next season Matt Tomua, Wallabies fighter, joins the Rebels and has plans on that role too .
"Quade is definitely a top class player and there are not too many of them flying around, so when we got the chance to get up, it was done with two hands," said Wessels.
"Good players like to play with other good players, and very good players like to compete with good players about their situation because they get the best out of them. work pretty well. "
The big question about Cooper is whether his commitment to becoming an elite rugby player remains strong after many challenging years.
Cooper will have to recover the level of match fitness needed for Super Rugby after playing in the Brisbane club rugby with Souths.
"It's been playing quite full time for a decade without a break and this is the first time it's breathed physically and mentally – it's making a difference," said Wessels.
"When you talk to it, it's obvious that he has a real energy for the game, he's passionate about him.
"My heart feels that the time off has been good for him, his body has no obstacles and bruises. He's feeling well and ready to go."
Super Rugby finished their timetable on Friday, with the Rebels to open their season against ACT Brumbies at the GIO Stadium, Canberra on February 15.
Rebels Timetable 2019 Super Rugby
ACT Brumbies v Melbourne Rebels, GIO Stadium, Canberra, Friday, February 15, 7.45pm
Rebels Melbourne v Highlanders, Parc AAMI, Friday March 1, 7.45pm
Rebels Melbourne v ACT Brumbies, Parc AAMI, Friday March 8, 7.45pm
Lions v Melbourne Rebels, Emirates Park, Johannesburg, Sunday 17 March, 12.05am
Sharks v Melbourne Rebels, Kings Park, Durban, Sunday 24 March, 2.15am
Queensland Reds v Melbourne Rebels, Suncorp Stadium, Saturday March 30, 7.45pm
Melbourne Rebels v Sunwolves, AAMI Park, Saturday, April 6, 7.45pm
Melbourne Rebels v Stormers, AAMI Park, Friday, April 12, 7.45pm
NSW Waratahs v Melbourne Rebels, SCG, Saturday April 20, 7.45pm
Hurricanes v Melbourne Rebels, Westpac Stadium, Saturday May 4, 3.15pm
Melbourne Rebels v Queensland Reds, Parc AAMI, Friday May 10, 7.45pm
Rebels Melbourne v Bulls, Parc AAMI, Friday May 17, 7.45pm
Sunwolves v Melbourne Rebels, Tokyo, Saturday May 25, 3.15pm
Melbourne Rebels v NSW Waratahs, AAMI Park, Friday, May 31, 7.45pm
Crusaders v Melbourne Rebels, Christchurch, Saturday June 8, 5.35pm
Melbourne Rebels v Headteachers, AAMI Park, Friday, June 14, 7.45pm
Source link