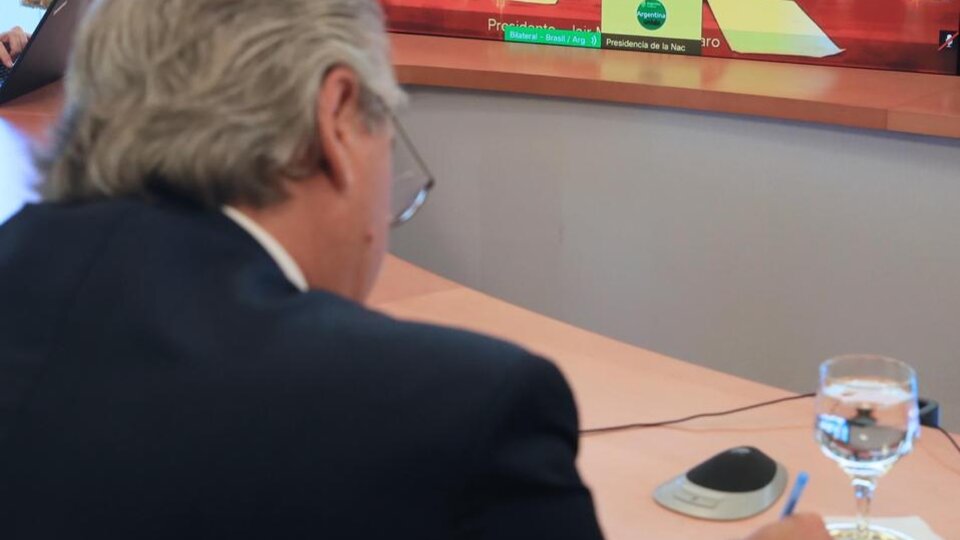 The date helped break the ice: the celebration of the day of Argentine-Brazilian friendship on November 30 was the perfect "excuse" for Alberto Fernandez Y Jair Bolsonaro, then strong crosses, based on two completely different worldviews, could have their own first video conference call from the residence of Olivos. Is it 35 years ago,, Raoul Alfonsin and Jose Sarny sat in Foz de Iguazu bases with the most important integrative project in the region what in 1991 led to the creation of Mercosur.
WITH remote meeting between the two leaders He participated former president of the Brazilian Democratic Restoration Jose Sarny. The head of state of Argentina he claimed: "This is a very important day for Argentina and Brazil and for the whole continent"Why"integration began for the first time"and add: "I am celebrating this meeting to give Mercosur the necessary impetus Y it is essential that Brazil and Argentina do this together".
In addition, President of Argentina fought for leave "the differences of the past and face the future thanks to tools that work well between us" to "strengthen all points of agreement."
Referring to bilateral cooperation between the two countries Fernandez stated: "We continue to make progress on security and the armed forces, and we have to work together on an environmental issue that is of great concern to us.. We have to make a conservation agreement. " He added: "We have opportunities for development to supply gas to Argentina and Brazil". From my side, The Brazilian head of state stressed that "Mercosur is our main pillar of integration", at the time he asked generate "more agile and less bureaucratic mechanisms"Within the framework of a multilateral organization.
He also expressed his opinion willingness to move in areas of common interest, "especially in the field of tourism".
Bolsonaro added:Our armed forces have excellent integration. We will strengthen our integration into the defense industry and we will progress combating drug trafficking and transnational crime".
President of Argentina he was accompanied by Minister of Foreign Affairs, International Trade and Cult, Felipe Solo; and Ambassador of Argentina to Brazil Daniel Scioli. From Brazil, the head of the department of foreign relations took part, Ernesto Araujoand Secretary of Strategic Affairs Flavio Viana Rocha. Brazil is Argentina's main trading partner, and bilateral cooperation also takes place in areas such as health care, for which the neighboring country has exceptionally allowed the export of Midazolam, which is an important factor in the treatment of patients with severe coronavirus.
At the closing ceremony, the former president of Brazil, Jose Sarny,, wish "success in the government " to President Fernandez and explained: "This date was chosen to commemorate the beginning of Mercosur, where we sought to grow and form a competitive group at the international level to expand the integration of our countries. "
November 30, 35 years ago,, Raoul Alfonsin and Jose Sarny sat in Foz de Iguazu bases with the most important integrative project in the region. That's how he was born dynamic that in 1991 will give rise to Mercosur.
Source link