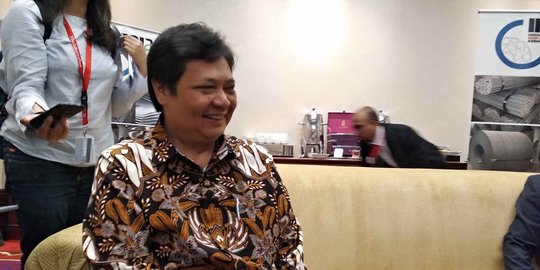 Minister of Industry Airlangga Hartarto. © 2018 Merdeka.com/Wilfridus Setu Embu
Merdeka.com – The Minister of Industry, Airlangga Hartarto, said the Province of the Ries (Kepri) had great potential in the development of the manufacturing industry sector. For this reason, government continues to encourage the region to become an investment destination by creating a favorable business climate.
"The processing industry contributes most of up to 36 per cent Regional Regional Home Material (GRDP) in the third quarter of 2018," said Minister Airlangga through his official statement, as written on Sunday (18/11).
Airlangga Minister also noted that the Riau economy in quarter III-2018 had been measured on a GDP basis based on current prices (ADHB) arriving at Rp 65.19 trillion and at constant prices (ADHK) reached Rp 43.68 trillion. This is impossible of the role of Batam as one of the industrial estates centers.
"So we invite industry players and investors in Batam to remain optimistic about their business. The government has strategic solutions and policies to make the Batam area more competitive," he added.
In addition, according to him, Batam is likely to be a starting growth center with the development of the Nongsa Digital Park. This effort is to realize Batam as the focus of innovation and support and the implementation of the Making Indonesia road map 4.0.
"During the leadership departure in Bali in October, the Indonesian and Singapore Government signed the Co-collateral Investment Agreement. In addition to the potential of Singapore to invest in Batam, it will be even larger, also targeting Batam as a Singapore digital bridge to Indonesia , "he explained.
Airlangga added, in the future Indonesia is considered to be a center for the development of the digital economy. This condition will support Indonesia's vision of being part of the top 10 countries with the world's most strong economy by 2030. "We count, until 2030 we need 17 million workers with literacy on the digital economy, "he explained.
At present, manufacturing industry is still the main pillar of the economy in Batam, supported by the trade and services sector, as well as construction. Slowly but certainly, other industries also began to grow rapidly in Batam. These include the digital industry, tourism, and the MRO or aircraft maintenance industry.
"Of course, we are also focusing on developing other sectors, such as the shipyard, offshore, including oil and gas industries," he said.
Meanwhile, the General Chair of the Chamber of Commerce and Rosan Roeslani claimed him to see positive developments in Batam. Economic growth is currently 4.25 per cent, well above the last 2017, which was under two percent.
"With this good tendency, we hope that current policies will have to be improved. Similarly, with coherence at the regional and central levels that must be agreed, so investors re-look at strategic areas such as Batam and other industrial zones, "he said.
Also read:
Quarter III-2018, the tobacco processing industry dropped 44.78 per cent
Indonesia overflows ceramic tiles from China due to trade wars
Before Christmas and New Year, BI states that the processing industry is starting to stretch
Although the market is slow, Otsuka is confident to build a Soyjoy factory outside Japan-China
The first Soyjoy factory was opened outside Japan and China in Pasuruan, East Java
<! – –
->
(mdk / azz)
<! – –
->