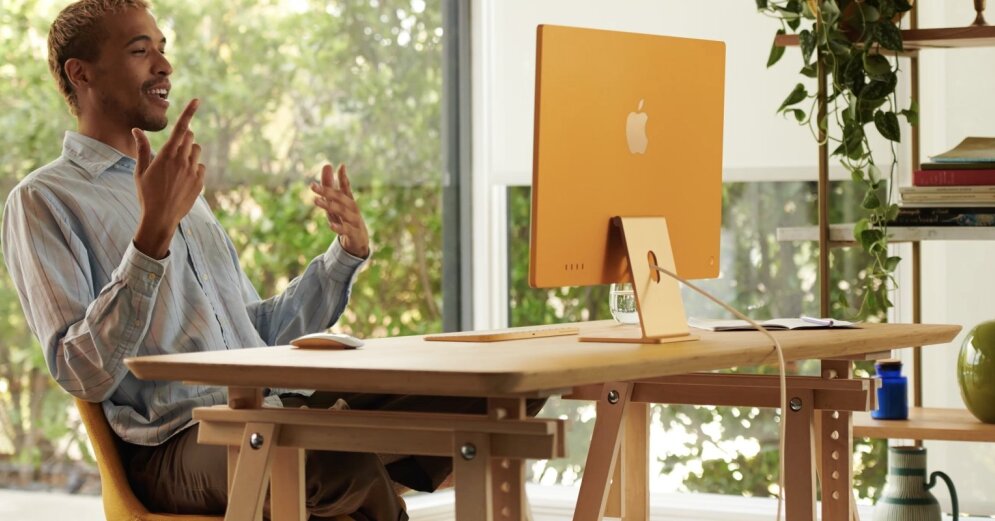 In its first presentation this year, Apple announced several new products that will be available soon. Literally the biggest news is the brand new iMac desktop computer. This is followed by a surprisingly powerful tablet computer "iPad Pro" and a very small news – a pendant that will help find lost property. In the middle of everything was announced iPhone 12 in a new color and Apple TV, which received a new remote control.
Content will continue after the announcement
Advertising
The new iMacs have been redesigned and have small plans. Apple has long been trying to make its products thinner, and now, thanks to the M1 processor announced last year, the desktop can also be "compressed" to almost one centimeter. The 24-inch screen has a resolution of 4.5 KB (4480×2520) and a color mode of "True Tone", which will adapt the image on the screen to the environment. Finally, perhaps in a pandemic year, the iMac is equipped with a high-quality camera, which, of course, will be useful for video calls.
As already mentioned, the computer runs on Apple's own M1 processor, has 8 or 16 GB of RAM and 256 GB of up to 2 TB of hard disk space. The computer has two to four USB3-USB4 ports, depending on the selected equipment. Interestingly, it still has a 3.5mm headphone jack, which has completely disappeared from smartphones and tablets. However, the memory card reader has disappeared from these computers, which is why people and photos are unlikely to be happy.
Computers are available in seven bright colors. Their prices in Europe start from 1449 euros.
With particular enthusiasm, the new iPad Pro tablets were announced, which are now also equipped with the same M1 processor and are able to provide hitherto unimaginable performance. Much attention is also paid to iPad screens, designed using mini-LED technology to achieve a particularly high level of contrast. This will allow you to enjoy images, videos and games in especially bright colors.
The iPad Pro is also equipped with an updated camera that will be useful for video calls. The camera will not only provide higher image quality, but will also be able to automatically follow the face. As before, the iPad Pro can work with the Apple stylus and keyboards.
Prices for the 11-inch iPad Pro start at 879 euros, and for the 12.9-inch model – from 1199 euros.
Finally, Apple's smallest product, the AirTag pendant, has been announced. There have been rumors about this product for at least a year, it is finally here. This is a three-centimeter disk with a Bluetooth transmitter. With one standard CR battery, the AirTag will last about a year. A small device is designed to attach to things that are usually lost – to a bunch of keys, bags, clothes. The device periodically emits a Bluetooth signal that other Apple devices can receive anywhere in the world. Only the owner can find out the location of a particular AirTag using the program.
Your device is designed to track the location of other people.
One pendant costs 35 euros, but a set of four "AirTags" costs 119 euros.
Unexpectedly, Apple also announced an update to the Apple TV 4K. Recent trends suggest that this product may disappear from the company's product range, but it continues to live and has become more user-friendly. The remote control of the previous model, which was especially difficult to use with a touch-sensitive surface, caused great anger among users. The new ATV remote control is completely redesigned and much easier to use. The price of the device is still quite high – 199 euros.
The presentation made it completely unusual that a new iPhone color was also announced, which was released in the fall. Now the iPhone 12 and 12 mini will also be available in purple.