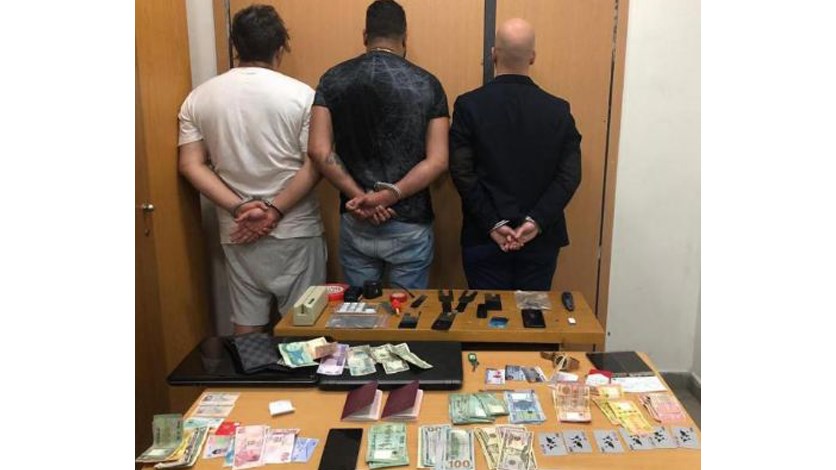 On 7/11/2018, unknown persons placed an electronic piece inside a cash machine that belongs to a bank in the Ghazir area, for pirate data to a customer card and to use to withdraw money .
The Internal Security Forces Information Division started its field operations to identify and arrest the offenders. The nationality of the unknown was likely to be from one of the countries of Eastern Europe, as well as involving Libanus in the operation. M. (Born 1983) of criminal record holders in cases of falsification, attempting to murder, beat and abuse.
After rigorous surveillance, the Special Police was able to arrest the last in the Kaslik area of ​​an Infiniti vehicle that he had used in the operation and was seized.
After investigating, he admitted his involvement with two other people seeking pirate credit card data, namely K. T. (Born 1979, Bulgari) and n. A. (Born 1994, Bulgari).
Immediately, the Special Police held a raid at their residence in the town of Balat / Jbeil, and took some of the equipment used in a piping credit card and 3 laptops.
He admitted that he had been familiar with CR for years and had agreed to come to Lebanon to carry out the slippage operations of the card. He believed that they would move on their car to several banks to give the electronic piece to the ATM And money was seized and prosecuted a percentage of profits, as confirmed by the Bulgarian to investigate them as well as acknowledges the application for new parts of Bulgaria used in piracy, which was sent inside a covert box under the circumstances through DHL.
And they have a legal requirement, and deposited the eligible reference number at the address to the judiciary.