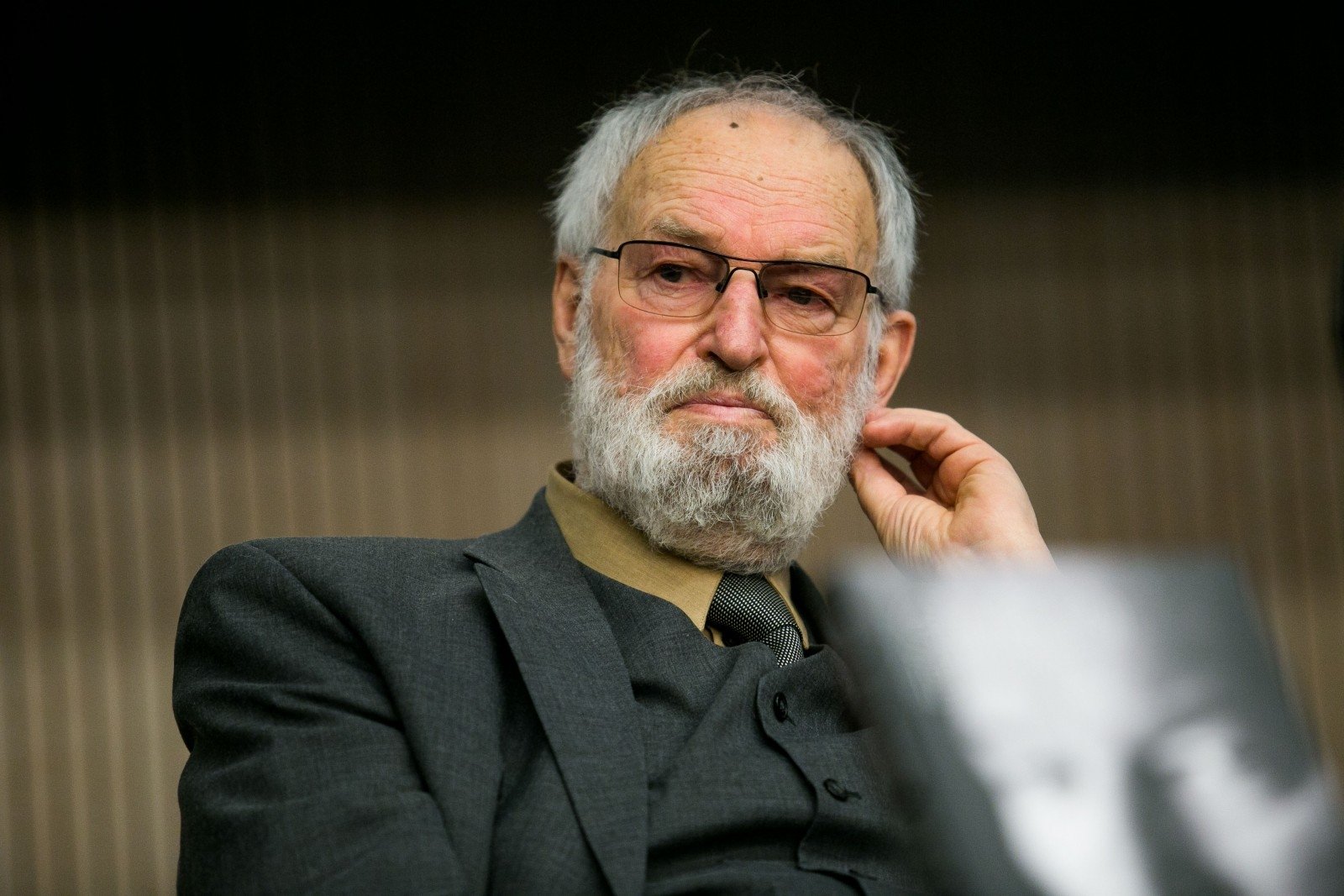 The legendary actor has been suffering from cancer for several years. Previously, R. Adomaitis took an active part in various film and theater projects, but recently spent time at home.
R. Adomatit states that due to complex operations his legs hurt. Besides, he is not the same age – he is 83 years old.
"Old age has come, you will not run away from it. But my youth and my whole life are bright, I can't complain. And old age is not joy. It hurts here and there. And the further, the more often. But no one was able to protect themselves from it, "the famous actor admitted to the Russian portal with a smile.
"Man is an oncologist. I don't particularly want to talk about this topic. At first I was treated, we had several surgeries in Vilnius. But now I'm tired and threw this thing away. As long as God allows, I'll live. I'm an optimist, I live in this day ", – said R. Adomaitis.
According to him, he lives on the actor's pension, in addition, the youngest son Mindauh helps him at home and walks with his sick father. The son is married, but on the weekend he meets his wife – they go to the village, where they have a homestead.
"Mindauh is with me during the work week. I'm looking forward to his return from work to have dinner together. By the way, I can cook deliciously. For some time now I've been calling myself a cook, not an actor," joked R. Adomaitis.
He admits that he did not recover after the death of his beloved wife. Actress, singer Eugene Bayorite died in 2011. from hepatitis. The two eldest sons live abroad – the middle Gediminas has long lived in London with his family, and the eldest has lived in the United States for a long time, but is currently returning to Vilnius due to the coronavirus pandemic, working in the IT industry.
I've been talking about myself for a while now
The fact that the legend of theater and cinema is in good health, unfortunately, can not boast Delphi Adomaitis himself admitted in February this year, giving an open interview.
The actor was diagnosed with cancer more than ten years ago, but he, having tried many different treatments, eventually cut it off and left everything to chance. As we knew from his previous conversations with journalists, he is no longer being treated and should not even see a doctor at all – as it will be, so be it.
One wonders how a person who says as calmly as possible that he feels much worse than a year ago, and knows that nothing better will happen, does not seem to be upset or broken at all.
If only he could, R. Adomaitis would be in the theater today – his love for the stage really did not go anywhere. But it's time to acknowledge reality – it's time to say goodbye to it. First – as an artist, and finally even as a spectator.
"If I could go, of course, I would like to. But because it's hard for me to walk, I don't walk much anymore. His legs just don't take me anywhere, and at the same time to the theater," he shrugged.
And there were cases when, not wanting to disappoint the audience, he made seemingly crazy decisions, risking his health.
"I remember that where the Palace of the Rulers is now, excavations were once carried out, ruins were dumped, and we played J. Marcinkiewicz's" Mazvydy "in them – Irena Buchiene was a director and thought so. It was insanely hot, and we, dressed in all sorts of fur, it was necessary to climb those ruins, and perhaps from this tension, perhaps from the heat, the retina began to bounce – as if lightning appeared in my eyes. It happened before, he gave the ophthalmologist's phone and told him to go to her quickly. I left, and she told me, "You're going to be in bed now, and we're going to treat you. I'm supposed to ask. ten days ahead. I can't lie down, "R. Adomatit recalled.
"It happened that I went to the clinic after the performance, did something for the eyes, blindfolded, and I lay blindfolded until morning, and the next day he took me to the show again, I'm thinking, then he takes me to the clinic again, does something again and puts him to bed at night, "he said.
Wasn't it scary that risk could make you completely blind? "Then we just noticed. After all, tickets are on sale, people are waiting, everyone is ready to go and see the play," he explained his decision, saying that if he ever lay in a patient's bed, it was only agreed in advance with the theater directors. so that the audience can be informed in time, and playing with fever or other diseases, according to him, is not news for the actors.
Only now the actor has no illusions to return to the stage. A year ago, he was still considering a small role in the cinema he was offered, but it turns out that its creators eventually abandoned the idea, deciding that it would be wrong for him with cancer to drown in cold water according to the script.
"I refused, although I liked the script completely. And now what role would I take? That I feel even worse than a year ago, and I know that there will be no better, "he said calmly, most regretting that even books can no longer be read due to poor eyesight.
"It's like. I've already talked about myself in the past as a person who almost left this life, and you won't do anything here," he smiled warmly.
All open Delphi read the interview with the legend by clicking here.
It is strictly forbidden to use the information published by DELFI on other websites, in the media or elsewhere, or to distribute our materials in any form without consent, and if consent has been obtained, reference should be made to DELFI as a source.