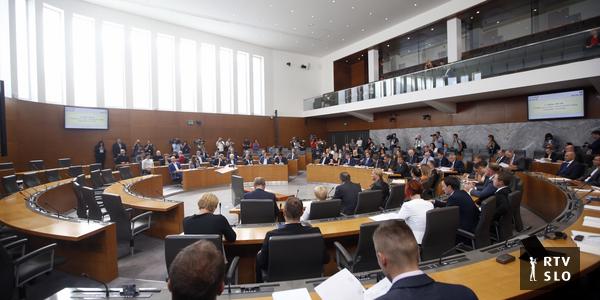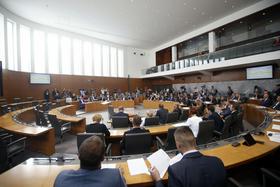 The National Assembly's regular session will begin with questions from the First Minister. Photo: BoBo
2nd National Assembly regular session
November 19, 2018 at 11:51,
Last intervention: November 19, 2018 at 12:48
Ljubljana – MMC RTV SLO, STA
The National Assembly, with queries and deputies, starts the first regular session of the National Assembly with Prime Minister Marjan Šarac and ministers. Prior to that, MEPs noted the resignation of Cohesion Minister Mark Bandelli.
The National Assembly has already indicated that the resignation of a non-portfolio minister is responsible for the development, strategic projects and cohesion Mark Bandelli. "The National Assembly states that Bandellie has ceased acting as a minister, "said the Presiding Officer of the National Assembly Leave Jidan and added that Bandelli would hold a temporary business temporarily until the appointment of a new minister.
Bandellia called on the First Minister to resign because of insufficient communication and claiming poor work in the ministry Marjan Šarec. He signed the retirement statement on Tuesday.
Šarec noted among the reasons for the change that Bandelli did not provide information on withdrawing EU funds, which is a Government priority, despite different directions. The second set of reasons related to an email, where September was one of the mayor candidates in Komen. But here's a lot of ice guy and accused that had accumulated at the expense of Bandelli since he became a ministerial candidate.
Bandelli apologized for the maid candidate and rejected his complaints about poor performance, saying he had made a great effort in two months. The First Minister now has ten days to offer a new minister or inform the National Assembly that the minister will be temporarily served by him or some other member of the government.
Parliamentary Questions to Šarc
Head of SDS deputy group Daniel Krivec within the framework of parliamentary questions, asking Šarca what is its attitude to the UN agreement on migration, who intends to join Slovenia after the government's Thursday decision. Most of the opposition states that the intention of an economic dumb is not equally equitable to refugees.
Head of the NSi parliamentary group Jožef Horvat he will ask the First Minister what kind of measures the government intends to take in the tax system. In the majority of the opposition, they believe that the measures that the coalition agreement provides in this area are detrimental to the country.
Deputy NHS Dušana Šiška they will be interested in the government's situation on solving the problem of disposing of radioactive waste in the Krško borough. The leader of the Parliamentary group will ask for the First Minister's situation to raise the minimum wage Matej T. Vatovec.
Member of LMŠ Jerco Korce, which found that the government did not have the usual 100 days of peace, he will be interested in what the government has taken during his first months of action and what Carcks think about his work persistent.
G. C.
Report error
Source link