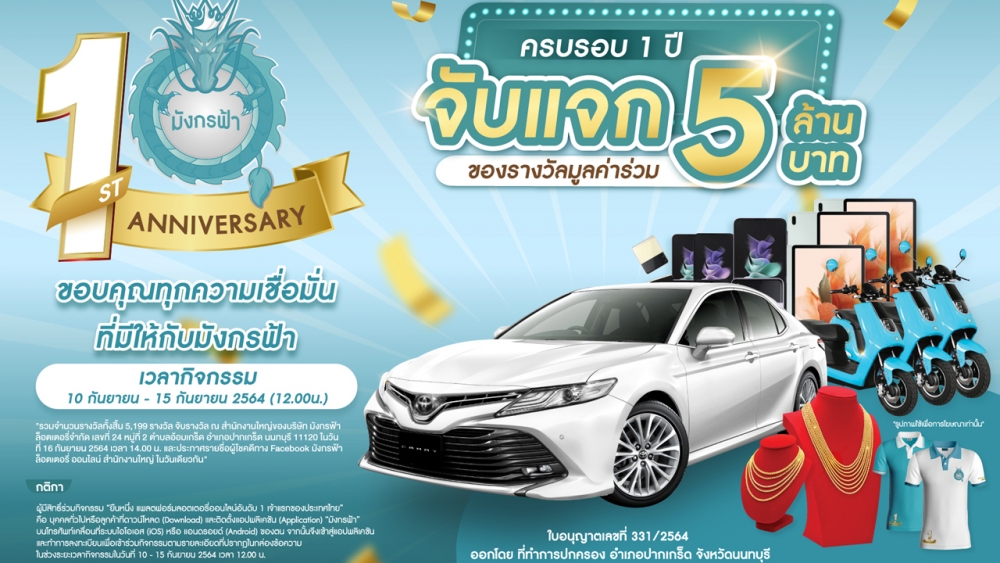 1st anniversary of Sky Dragon, an event on one platform
All prizes worth 5 million baht
Participants eligible to participate in the events are the general public or customers who download and install the application. (App) "Blue Dragon" on your mobile phones with iOS (iOS) or Android (Android), then log in to the application and register to participate in the activities as described in the text box.
1. There must be a person who downloads the Blue Dragon application.
2. Must be a person who has received the privilege and registered in the notification window in the Blue Dragon program from 00.00 (midnight) September 10 21 to 12.00 (noon) September 15, 64, if there is a Blue Dragon program But do not click to get rights and register will be considered to have waived the right to participate.
3. The terms of the right to join 1 participant code may be entitled to 1 right.
(1 person is eligible to receive up to 1 prize. When the lucky winner receives 1 prize, he / she will not be able to win other prizes.) The total amount of prizes worth 5 million baht:
1. TOYOTA CAMRY model 2.0G, 1 premium
2. Electric motorcycle, 10 prizes
3. Galaxy Z Flip3 5G, 10 prizes
4. Gold necklace weighing 1 baht, 18 prizes
5. Prizes Galaxy Tab S7 FE 10
6. Gold necklace 50 satangs, 20 prizes
7. Gold necklace weighing 1 saloon, 130 prizes
8. Limited polo shirt, 1st anniversary of the Blue Dragon, 5000 prizes
License № 331/2564 issued by the administration of Pak Kret District Nontaburi Province
blue dragon
Source link