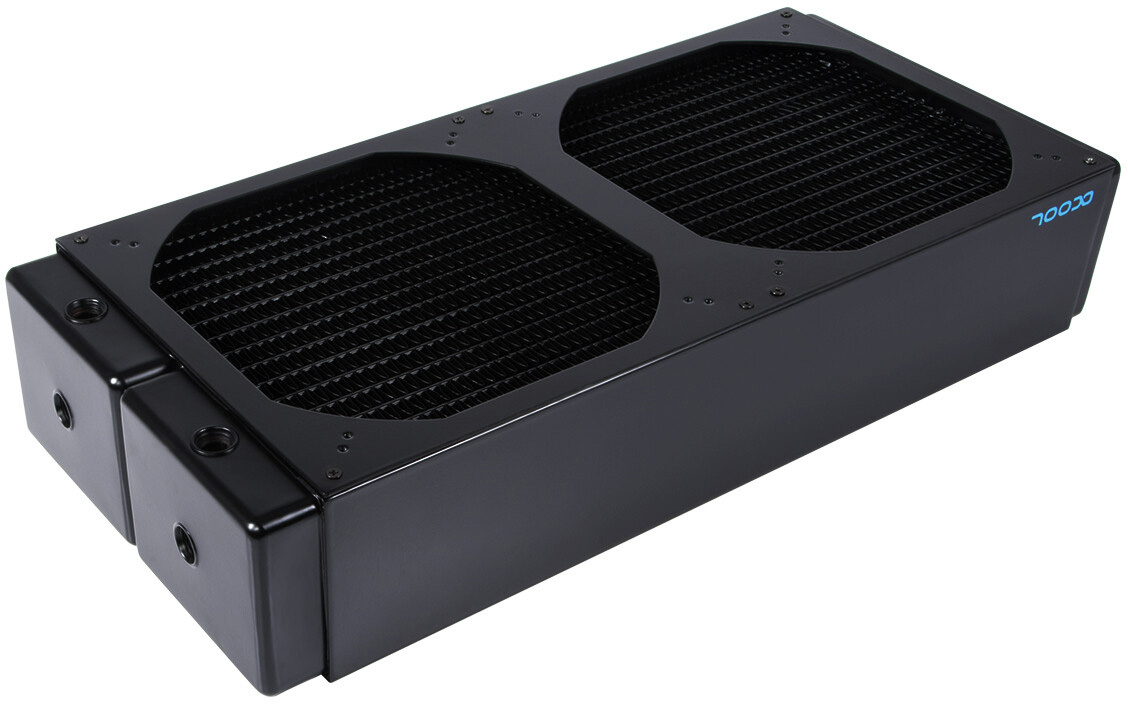 The German company Alphacool has introduced four large radiators for uncompromising water cooling. All major parts of the novelties are made of copper, including heat exchangers, ducts and fins. Only mounting plates and elements of the radiator frame are made of steel, threaded connections are made of brass.
Radiators NexXxoS Monsta 200 mm (price from 85 euros) and Monsta 400 mm (from € 116) are designed for fans of 180 mm or 200 mm and have a thickness of 86 mm. Both products have seven standard G1 / 4 holes. Six of them are used to connect hoses, and the seventh port is located in the end chamber and can only be used to fill, drain or remove air from the system.
The density of the fins is 12 FPI, which allows the use of fans with lower static pressure and low speed.
NexXxoS UT60 Nova 1080 mm (price from 138 euros) is one of the most productive SVO radiators. The huge cooling surface is comparable to three standard 360-mm radiators and requires nine 120-mm fans per set.
This allows you to easily remove more than 1000 watts of excess heat with the help of extremely quiet or silent "Carlson". For example, this amount of heat is equivalent to one 64-core AMD Threadripper 3000 and at least two GeForce RTX 3090 graphics cards.
NexXxoS XT45 Quad 480/560 mm (price from 90 euros) is a younger version of the UT60 Nova 1080 mm. It comes with two mounting plates, each of which can be fitted with four 120 mm or 140 mm fans.
The novelty corresponds to the cooling capacity of two radiators 240/280 mm. NexXxoS XT45 Quad 480/560 mm is able to meet the needs of any desktop system consisting of one processor and one video card.
Alphacool also introduced the Apex Liquid ECO coolant, which is "environmentally friendly and easy to dispose of." The basis is purified water, and additional additives have an antibacterial effect and reduce the surface tension of the coolant, which helps to eliminate bubbles in the circuit.
source:
TechPowerUp
Source link